Steel Rail
MFS steel rail is created with a bridge truss design making it stronger and more durable to withstand the rugged use it will endure. This design allows wider spans to fit support in tight spaces. The system is a modular bolt together solution that we can install quickly to fit your schedule to be less disruptive to your ongoing business. It can be expanded to meet your needs and be dismantled to go with you when your business takes you to new places.

Our steel rail is powder coated for ease of maintenance and protection and will provide a clean bright look to your facility. Steel Rail is also ideal for shuttle truck and super capacity semi-trailer operations. We can create a single story or multi-level system to take advantage of often unused overhead space. Our overhead storage systems yield the highest possible capacity utilization in the smallest possible building footprint. We stock parts for your system when you need them to keep you moving.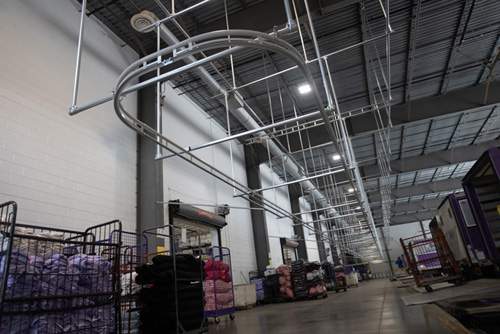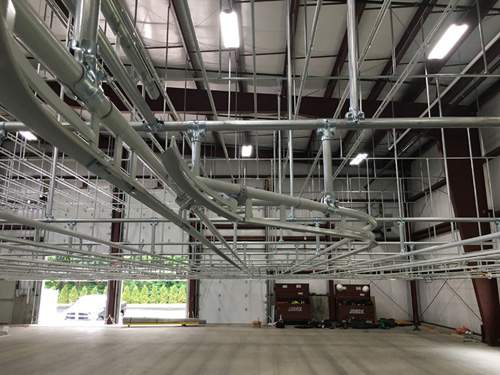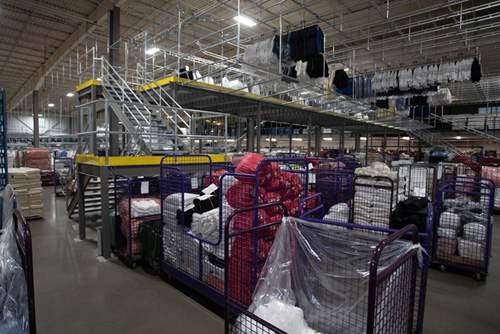 When you call Material Flow Systems to begin your Action Plan we will provide you with a knowledgeable staff that is ready to plan a Turnkey system that will be designed to meet your needs whether for the Garment Manufacturing, Industrial Laundry, Distribution, and 3PL Industries just to name a few. Our mission is to help you create greater efficiency and output in your facility so that you can take your operation to the next level by providing a custom configuration suited to your operation. We bring our over 30 years of experience in the industry to each of our customers providing material flow solutions that work as hard as you do.
Providing Nationwide and International Service: