MATERIAL FLOW SYSTEMS MEZZANINES
How do you increase available space for your current process within your existing footprint without costly building renovations, land acquisitions or even having to move to another facility? Add a MFS Mezzanine that's how. Our steel structure mezzanines are engineered to work with our different rail systems and provide valuable overhead storage space with our Steel Rail which can either be building supported or floor supported. Each mezzanine is custom built to work within your layout and not as an afterthought to be worked around. And in the way so much of our products are engineered, your mezzanine can be expanded should you need to or taken down and moved if you should relocate.

Do you take pride in your facility, then powder coating your new mezzanine to match your company colors is also an option. Safety features like fall protection come standard on all our mezzanines. MFS looks at each mezzanine individually to assess the best construction of that mezzanine, that's why we use a variety of material from C-Channel to I- Beam to large plate footing to smaller, all so that you get the mezzanine best to fit you and keep cost down as much as possible.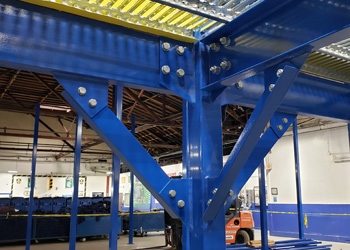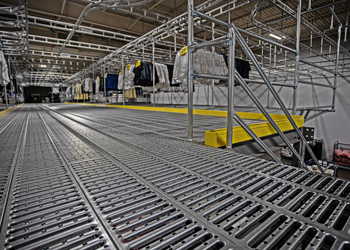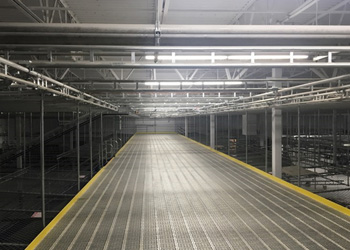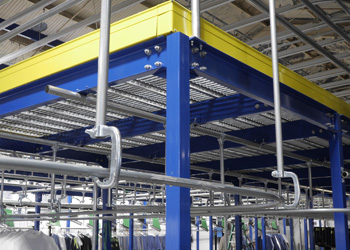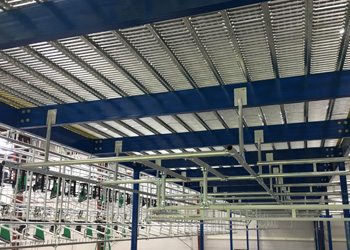 When you call Material Flow Systems to begin your Action Plan we will provide you with a knowledgeable staff that is ready to plan a Turnkey system that will be designed to meet your needs whether for the Garment Manufacturing, Industrial Laundry, Distribution, and 3PL Industries just to name a few. Our mission is to help you create greater efficiency and output in your facility so that you can take your operation to the next level by providing a custom configuration suited to your operation. We bring our over 30 years of experience in the industry to each of our customers providing material flow solutions that work as hard as you do.
Providing Nationwide and International Service: