Conveyors
PIN AND CLIP CONVEYORS
In the last decade, pin and clip conveyors have emerged as leaders for businesses that require rapid garment transportation and sorting. They are seen at work in facilities where garments are being moved and sorted at high speeds into specific customer sequences, order priority and delivery. Some examples include, but are not limited to, mail order/catalogue fulfillment operations, e-commerce operations and uniform and tuxedo/formal wear rental processing.

Pin and clip conveyors allow for rapid horizontal and vertical garment transportation. The fixed pin conveyors can move densely packed garment lots up to 80 feet/minute with ease and minimal friction across poly-tracks while flexible clip conveyors allow for accumulation and metering into sorting banks and onto gravity or powered accumulation rails. The spacing for the strong steel pins is adjustable.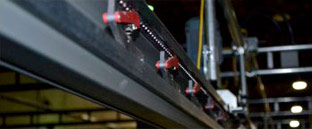 BRUSH CONVEYORS
Our Material Flow Systems (MFS) brush conveyors allow for loaded and empty trolley or trolley train transportation. The brushes are easily replaced while the wear and maintenance are minimized due to the chain being embedded in a precision guided channel. The low noise emission system is reversible and has a low accumulation of pressure, even on long storage rails. The gear drive for the roller chains are guided in an aluminum profile. Each trolley is caught by brushes at the trolley-V. We offer different types of brushes that can be configured to suit a variety of conveyance needs to ultimately create a solution for your system.