Sorters
SORTATION SYSTEMS
There are a number of sortation solutions that Material Flow Systems can provide for your business such as Pick, Drop, Ladder, Tupel and Task Sortation. Although our СОН Sorter is typically used to handle hanging garments, its versatile design can be used in many different industries and specialized to fit your facility's needs.
PICK SORTATION
In pick sortation systems, carriers in a storage line are re- routed to allow required carriers to be taken out.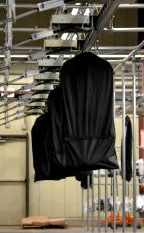 DROP SORTATION
In drop sortation systems, carriers are taken to drop rails where hangers are removed from the carriers and slid onto the rail at defined drop rails.


LADDER SORTATION
In ladder sortation, the carriers pass X shaped switches on their way to the ladder sorter. There is 1X switch for every sort criteria. Sortation is complete when the carriers have passed all X switches.
TUPEL SORTATION
In tupel sortation, certain quantities of earners are equally spread onto 2 lines which are connected by a switch. The carriers move between the 2 lines until sorting is completed.


TASK SORTATION
In task sortation, certain carriers are picked from a storage line and sorted by route and customer then dropped onto rails. Cascade sorting is done by a defined sequence and ladder or tupel sorting done by a sorting number.


Providing Nationwide and International Service: