Slick Rail Systems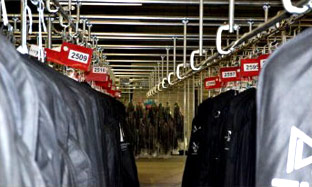 The Benefits of Using a Slick Rail System
Material Flow Systems' (MFS) Slick Rail System is one of the most frequently used systems in the Garment on Hanger industry. Although standard in the industry, here at MFS, we have set ourselves apart through our advanced design solutions. Our designs will fully use your facility's floor space allowing you to get the most out of your investment. These modular systems are bolt together and easily installed and expanded without welding. This makes them ideal for future expansion or potential changes within your facility. A great number of power conveyors allow for easy floor to floor transport and elevation changes.


The Mechanics Behind a Slick Rail System
The T-19S Slick Rail Trolley, with its 200 pound capacity, offers rugged construction and added durability with a hardened steel pendent and 1-5/16 inch diameter zinc plated steel tube load bar. We manufacture all the components in house needed for new installations. In addition, we maintain your existing system, including the standard 36" load bar, although customization is possible to fit your needs. Each trolley contains built-in stops which limit the rotation of the head for easy placement on the rail. A thrust washer assures free swiveling of the head for smooth tracking through bends.


MFS Provides Installation, Modifications, & Improves Profit Potential
Material Flow Systems provides professional installation. We will fully install or modify your existing Slick Rail System to provide you with a complete turnkey operation. Our expert staff will meet with you one-on-one to create a plan that suits your new or existing facility's needs on an individual level. All while helping to maximize your material flow, overall operating rate, and ultimately your profit potential. We dedicate our trained technicians to deliver you with a system on a schedule that fits your unique needs, while being the least disruptive to your ongoing business.


For more information, please call (909) 930-6151.