Center Supported Rail Systems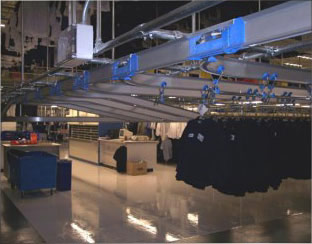 Maximizing Your Profit
Material Flow Systems (MFS) produces both aluminum and steel center supported overhead rail systems. The advanced design of the Center Supported Rail Systems allows garments to flow multi-directionally as opposed to the typical mono-directionally seen in most traditional rail systems. They allow for trolleys to be an addition or taken off at any point in the system. They may also couple together, creating a train of trolleys, increasing the operating rate, and thus maximizing potential profit.

These modular systems are a perfect solution making it easy to install and expand. MFS can do this without the hassle of welding, making them ideal for future expansion or changes within your facility. Compared to Slick Rail Systems, our Centered Supported Rail System is safer and easier to manage.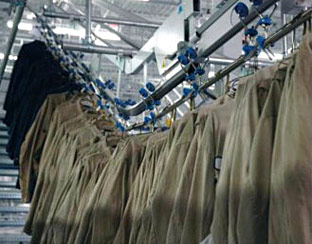 Manual & Automatic
MFS' Center Supported Rail Systems designs use both manual and automatic setting switch configurations. For this unique switching element, we can use Trolleys.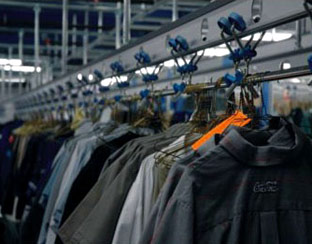 Durable & Ergonomic Designs
We create our aluminum rail using an engineered beam extrusion design, making it not only strong, but rustproof and lightweight. MFS' steel rail process begins in a bridge truss design. This only makes it even sturdy and more durable. All aluminum rail components are anodized and all steel rail components are powder coated. Our innovative and ergonomic designs allow wider spans in tight spaces and provides a clean, yet sleek look to any facility.

Support When You Need It
Our knowledgeable staff will meet with you individually to create a plan that best suits your new or existing facility's needs while helping to maximize your material flow, overall operating rate, and ultimately your profit potential. We dedicate our trained technicians to deliver you with a system on a schedule that fits your needs and is least disruptive to your ongoing business.


For more information, please call (909) 930-6151.